Every once in a while most YouTube creators will receive an email from the YouTube team telling them one of their videos has been restricted or removed. In many cases, the creator will know what has happened and will accept the email. If for example, your work includes copyright material that you are not licensed to use then you shouldn't be using it.
From time to time though, YouTube does get it wrong and their reasons for restricting or removing content are false. In these cases, you can appeal the decision and in most cases, you can expect to win.
I couple of days ago I received one such email informing me a video had been removed because I included a link to a web page involved in "spam, deceptive practices and scams". The link in question was to a well-known website that allows musicians to share their work with other creators.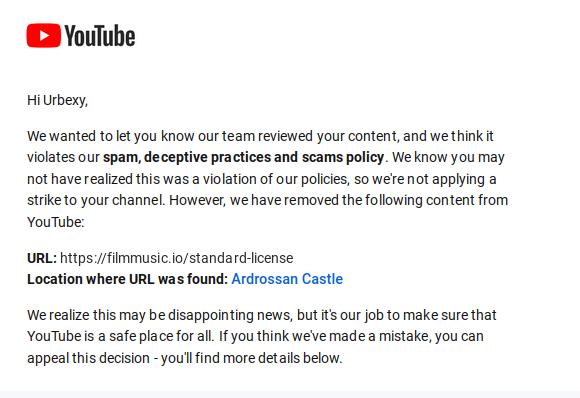 Filmmusic.io is a website that allows musicians to create an account and upload their work onto the platform. Creators can then browse and search for suitable music for use in their own projects. The work is generally released under a Creative Commons licence. This means video creators (like us) can freely use the music as long as we give full credit to the artist.
We include the credit, at the end of our videos and also in the YouTube description. It was the link to the Creative Commons licence page on FilmMusic's website that YouTube did not like.
When I received the email from YouTube the first thing I did was head over to their website to appeal the removal. To my surprise, the video was not removed. When I went into Creator Studio there was no mention of a removal.
I then went to FilmMusic.io with the intention of alerting the owner to the potential issue. I was pleasantly surprised to see he was already fully aware and had set up a section on his website to highlight the issue…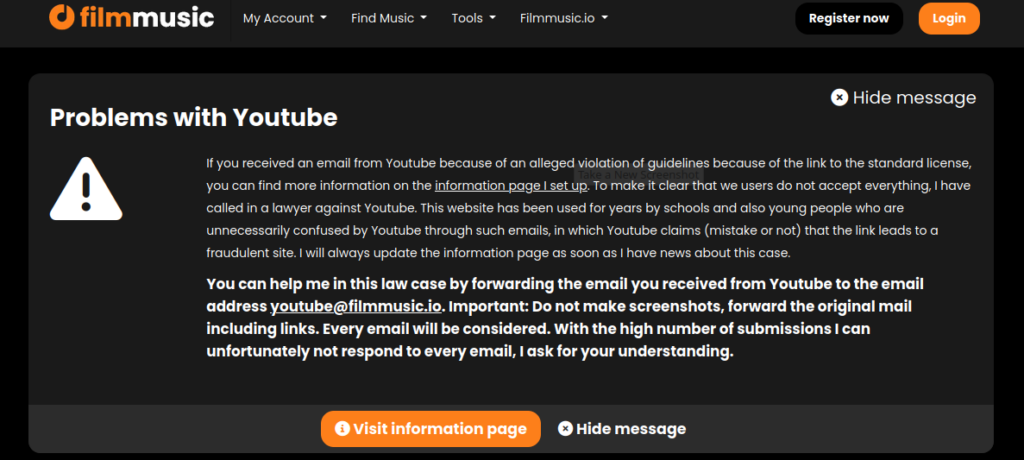 Sascha Ende is the owner of FilmMusic.io and he has done an incredible job with the website. I have personally been using his service for years and view it as an incredible resource. I am a strong believer in Creative Commons. I am an amateur photographer and release my photographs on Pixabay under a similar licence.
I cannot create music but if I could I would upload it to FilmMusic.io
You can read the full press release from FilmMusic.io
Corporations need to stop relying on algorithms to the extent they currently do. Errors like this can do incredible harm to innocent parties. This had the potential to cause serious harm to FilmMusic.io
Upon reading the comments I was happy to see most people were understanding and "got" what was happening. In reality, it should never have happened.